Student Success Center
Learning Services
All Learning Services are

FREE

to all students on the Winona Undergraduate Campus.
Academic Support
Academic Support is provided by Peer Tutors and Academic Success Pros in the Student Success Center. We take the time to identify your needs and help you identify and implement a plan that will help you meet your academic goals and overcome your academic challenges.
What is tutoring?
Tutoring at Saint Mary's is peer-to-peer. This means that you are working with another student who has taken the course you are requesting a tutor for. Tutors have performed well in the course and complete a comprehensive training.
What courses can I get tutoring for?
Tutoring is available for many Lower Division (100 & 200 level) courses and a select Upper Division (300 & 400 level) courses. Not every course currently has a tutor, but if you are in need of support for a course, you should still request for a tutor for that particular course. Upon receiving the request, we will work to find a tutor for the course if possible. If you have questions about whether a course has tutoring, you can email tutoring@smumn.edu. 
Who can request tutoring?
All undergraduate students can request tutoring, free of charge, through Knack . Knack can be accessed through the Knack app which is available in the Apple Store and on Google Play at no cost, or through an online web browser.
What does a tutoring session look like?
There are various forms of tutoring. One-on one and small group tutoring is available and allows you to work at your own pace with a tutor. Upon completing your request for a tutor in Knack, a tutor will reach out to you and you and your tutor will determine a place and time for the session to occur. It is expected that all students who request a tutor come to their session prepared with questions, problems, and notes to optimize their time with the tutor.
Embedded tutors are available for specific courses each semester and are listed in Knack as open sessions. These sessions occur weekly throughout the semester at the same time and place. In embedded tutor sessions you will have the opportunity to work with your tutor and other classmates in the course to review and better understand the material. The following embedded tutoring sessions are available for the Spring 2023 semester: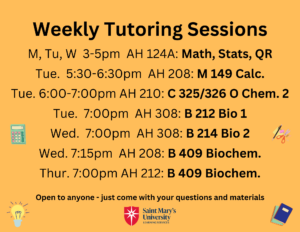 Why should I use tutoring?
Tutoring sessions can increase academic performance by providing an opportunity to practice what is learned in class. Tutoring is flexible and can be utilized on a as-needed basis throughout the semester, not just for when you are struggling in a course. Students who have previously used tutoring have shown as significant of an increase as .75 in their GPA with consistent use of the services.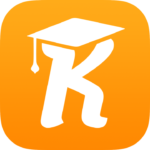 What are academic Success PROs
Academic Success PROs are high achieving students who have expertise in academic skills that college students need to succeed: time management, reading strategies, study skills, note taking, organization, and building better habits. If you're a student who needs to build one or more of these skills, the PROs are here to support you.
Ella Boomgaarden
Sam Frick
Sydney Green
Kyle Palmberg
Kevin Porcayo
Cameron Schmit
Cordy Ruch
Seth Peterson
Academic Resources
If you're looking to improve your academic skills, the resources below can help you get started. Each resource is designed to give you a base for improving as a student. Not all of them will work for everyone. Each is a tool to try until you find the tool that works for you. You are welcome to try them on your own. If you'd like help, guidance, and how to apply them most effectively, the Academic Success PROs know the resources and can help you in that journey.
Building Better Habits
Humans love routines. We also love to stay in our comfort zone. Even when our comfort zone is harming our performance,  we'll fight leaving it. Complaining about circumstances. Blaming others. Defending poor decisions. These resources are here to help you get out of a routine that is counterproductive to success in college and move into a routine that helps you be better than average.
Time Management Resources
Reading Strategies
Organizational Skills
There's an old saying: "A disordered desk is an evidence of a disordered brain…" For the college student, this can be applied to class notes, class materials, your dorm room/apartment, backpack, etc. When you sit down to study and you can't find the materials you need within a minute, you're wasting valuable time trying to prepare for studying. Use these resources to organize yourself, your materials, and your mind. Efficiency is a key to success.
Study Skills
Note-taking Skills
If you're not taking notes during lectures, you're hurting yourself. Just because the presentation is available on Canvas, doesn't mean it contains all of the information your professor covers. Taking notes keeps you alert, helps with organizing and emphasizing information, engages your mind, and creates a condensed record to study. If you're not already taking notes, use these resources to help you try different formats. Find the one you like best and use it. You'll see a difference.